Hakaranga
Grandmothers Healing Haka Tour 2012
3rd – 12thFeburary
Northland, Aotearoa - New Zealand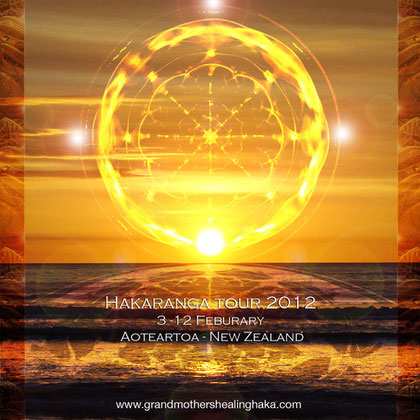 Ko te Haeata, karanga mai karanga atu.
Ko te Kapura, te hihiri, te uaua, te mana.
Ka whakaoho ki te wairua ki te Ao Marama.
Tihei Mauri Ora! 
Be called far and wide by the new dawn.
The power of the fire arises and stirs.
Be awakened by spirit in the full day light.
Breathe the life!
This tour was guided by
Waimaania and Ojasvin
Supported by whanau and friends
Co-organized by
Grandmothers Healing Haka Charitable Trust
and
Dana Tir of Chamana Urbana
This slide show is a little insight into our magic time we
had on this journey together!
Thank you Patariki for bringing the photos together.
And thank you Uncle Hone and Carole for singing with us.
This tour is unique and is limited to 21 participants only!