Grandmothers Healing Haka Tour 2011
Haere mai, hoki mai ki to wa kainga
Welcome, welcome home
3rd to 13th February 2011
Northland, Aotearoa New Zealand.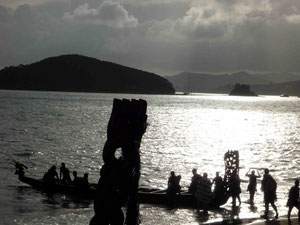 I tau ano Pu
He kakano a Io
Ko tona hiahia matua
Kia puawai, kia tupu kia hua
He rakau nui I wao nui Tane.
In your centre
Is your devine seed Io
Inscribed with the purest intension
To blossom, to grow and to be fruitful.
To become a great living tree in the world of Tane.
  Interpreted by Rangi Davis
  With great thanks to all the beings and all the helpers and all the tour members for this magic time!
This ten days journey was about returning home to Aotearoa "the land of the forever radiant light", to receive the messages revealed by nature and to feel what radiates through the Maori culture.
We experienced the great gathering of Maori people in Waitangi during Waitangi day, the national holiday.
We visited the 90-Mile beach and stayed together in a beautiful Marae. Then we followed the ancestor path to "Te Rerenga Wairua", the most northern point of New Zealand, where the souls dive under the water to find their way home to Hawaiki Nui.
At the ancient tree Tane Whakapiri, the God of the forest, who binds all together, the journey's stories all got woven together.
We danced and sang, made our own Poi and learned to weave our own KITE, gathered seafood and shared the Maori healing of RomiRomi with Atarangi. We experienced the Maori culture from many different sides and spent time in wonderful places on magical beaches.

This tour was guided by:
Iris and Ojasvin
Supported by whanau and friends
Co-organized by Grandmothers Healing Haka Trust
and Dana Tir of Chamana Urbana
www.grandmothershealinghaka.com