TOUR 2016
AROTAHI
25 January - 7 February 2016
MANIFEST THE NEW WORLD FROM YOUR HEART

Journey with your inner Shaman through Aotearoa - New Zealand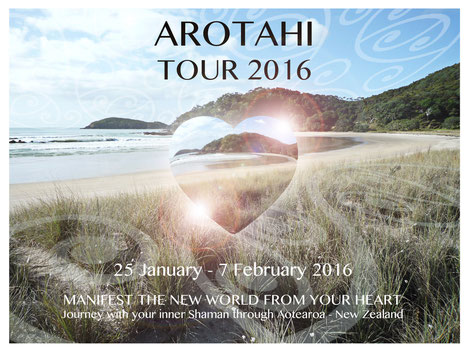 ARO: pure heart intension TAHI: from this unity

merging the male and female
tane / hine
Feedback AROTAHI TOUR 2016
by Fanette Akoka  
In each luggage of the participants, we can find an electrical adapter. With the Maori people, we do not need an adapter : the current flows marvelously and the adaptation to this beautiful culture is made in the most natural way possible. The Maori women know perfectly how to  use flax to create beautiful things. The metaphor of the journey is here. Learning to weave, to merge everyone's experiences with their own experiences, weave fraternal and familial links with the rays of the whānau to create  a cocoon where everyone feels good, wrapped by the sun of Aotearoa  and this soft human warmth surrounding us. The guides, Waimaania and Ojasvin, are two lights who show us the beacon of life. The path is filled with meetings as beautiful as strong, supported by lush nature which reminds us of the primary role of Mother Earth in our lives. For European people, Aotearoa is located at the antipodes. Our roots touch this Land of sharing and opening. By going there, we discover the Maori and their culture, but it is also our own roots that we get to know. At the end of this timeless journey, we became aware that Kerry Strongman's phrase is so true : "once you connect to Aotearoa, you will be changed forever".
This unique fourteen-day journey through the North of the North Island of Aotearoa-New Zealand was a weaving of life experiences on multi levels.
We followed the Karanga (call) home to Aotearoa "land of forever radiant light", and joined together for this cultural immersion journey. Awakened to the Haka that lives in the land and in the Maori culture. We received the messages in the beautiful nature that rekindles the spirit.
We enjoy an introduction to the Maori culture followed by a two-day intensive Grandmothers Healing Haka Wananga (learning space) on Marae (living grounds) in beautifully carved Wharenui (ancestor houses) to get familiar with the Maori Culture to be ready for the discovery journey through the land.
We visited Tane Mahuta, the God of the forest, the 2000 years old living ancestor Kauri tree and the beautiful region of the Hokianga. 
Together we experienced the great gathering of Maori people in Waitangi during Waitangi-Day, the celebration on New Zealand's national holiday.
On our journey we visited the 90-Mile beach, slept and dreamed together in a beautiful traditional Marae. And from there we followed the ancestor path visiting "Te Rerenga Wairua", the most northern point of New Zealand, where the souls dive beneath the water to return home to Hawaiki Nui. 
We saw sacred places and enjoyed magical beaches, learnt to dance Haka, sang Maori Waiata, made our own Kite/woven bag, gathered see-food, eat Hangi and experienced the Maori healing technique of Romiromi and Mirimiri.
We experienced Whanau/family time and enjoyed this journey together as a global Whanau/family.
This tour was guided by
Ojasvin Kingi and Waimaania
Supported by
Whanau and Friends
Organized by
Grandmothers Healing Haka Charitable Trust