Grandmothers Healing Haka Charitable Trust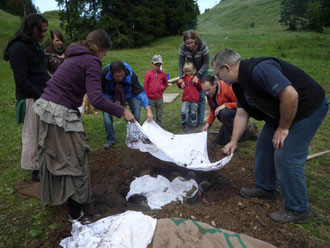 On the 2nd of May 2010, the Grandmothers Healing Haka Charitable Trust (GMHH Trust) was founded by Ojasvin Kingi Davis and Waimaania Iris Häusermann Davis together with Clif Sanderson, in the presence of Galina Sanderson and Makuini Ruth Tai. It became an Incorporated Charitable Trust registered in New Zealand, with the aim to create, uphold and foster chosen projects, carried out both locally and internationally.
It all sprung from the inspiration of the Earth Celebration in Konolfingen, Switzerland in 1998, where the essence was: "Our diversity is our wealth".  Out of this was birthed in Aotearoa – New Zealand the globally renowned dance named Grandmothers Healing Haka. This haka was created by Ojasvin Kingi Davis, his Grandmother Mere Te Wake Tana and whanau.
Since 2004, Grandmothers Healing Haka has been travelling worldwide to over 17 countries.  It has evolved into a rich Integral Learning Programme through the merging of Ojasvin and Waimaania's strengths and backgrounds.  This programme features Ojasvin's Tikanga Maori, Waimaania's teaching and theatre/dance background as well as their shared wealth in Yoga of Integral Learning and Intuitive Doing from the school of Min-I.L.I.T. The programme consists of many elements, including different dances, songs, exercises, meditations and spiritual teachings.
The Grandmothers Healing Haka Integral Learning Programme imparts wisdom and love from the tradition of the Waitaha - Maori - the water carriers, connects to the Cosmic Tradition and activates the Human Dignity in oneself.  Grandmothers Healing Haka encourages people to remember their own cultural roots and link to their source of strength. This can be a great foundation in this critical time of universal change.
The Trust was founded to be the fertile ground for the growing vision and the manifestation of the Global Whanau Whaiao – Family of the Light, as well as a mantel for the Healing Haka Integral Learning Programme with its elements and teachings, the PAIO well-being sessions and the Mauri Designs (now distributed by Wakaio Ltd.) The Trust enables our weaving and co-working with other organisations on a professional level. 
What is a Charitable Trust?
Charitable Trusts are formed to undertake charitable activities, not only to assist in this present moment, but also for the future generations.  The creation of a Trust enables the legacy of the mahi (work) to carry on even well after the original founders may have passed.
To be registered as a Charitable Trust, the aim and activities of the Trust must fulfil certain criteria.  The purpose of a Charitable trust being for any one or all of the following aims:
the promotion of education

the promotion of religion

the relief of poverty

other purposes of benefit to the community.
Under the Charitable Trust Act 1957, a charitable trust may make profits on their trading activities but the profits must be used for their charitable purposes.  This allows for the Trust to be self sustaining through many different activities and thereby free of any funding limitations.
It is on this basis that Grandmothers Healing Haka chose to Incorporate as a Charitable Trust, to further the mahi, to collect and preserve the taonga and kete aronui (treasures and knowledge) and to support and encourage a sustainable and dignified life for the Whanau Whaiao and all beings in the worldwide community.
In this context, Grandmothers Healing Haka Charitable Trust, holds the heart of charity within the original vibration of this word – an unlimited loving kindness to all beings.
The Trust Projects
Grandmothers Healing Haka Integral Learning Practice : To help people find back their own roots, their sense of life, the connection with mother earth and nature.
Meditation, Tito, Manatane and Manawahine courses in Aotearoa - New Zealand.
Grandmothers Healing Haka Tours of Initiation through the north of the North Island of Aotearoa - New Zealand or in other lands by invitation.
Design with Mauri/life energy for a dignified life. Now manifested in     

Wakaio Ltd. 

www.wakaio.com
The Trust Aims as written in the Trust Deed
(Who) All people young and old whom are engaging in spiritually evolving, self-transformation and true caring for the earth, human dignity, cultural recognition, family and community.
The Board is established to carry out, within Aotearoa - New Zealand and associated countries that actively promote the following aims and objectives:
3.1 To preserve, promote and develop the spiritual, cultural, educational and economical welfare and enhancement of Whanau/family and community.
3.2 To preserve and foster self-sustainability for Nga Whanau/families and community.
3.3 To promote, foster and assist in the process of creating sustainable models of living and working for Whanau/family and community.
To deepen an appreciation of integral learning toward holistic universal cycles and connecting with like-hearted people who feel the need to create a new global community for a future in dignity.
The Trust Board Members
- Ojasvin Kingi Davis               Chairman Aotearoa 
- Waimaania Iris H.  Davis      Treasurer Aotearoa 
- Fay Lilian                                  Advisor  Aotearoa                      
- Jennifer Meynard                  Advisor France
- Shane Westbrook                  Advisor Aotearoa             
Sponsors and Co-Workers
Aotearoa:
Whanau Marama Parenting
Oportunity Creators
Kawai Purapura Voices of Sacred Earth
Europe:
Association Sacré Toi, France
A Ciel Ouvert, France 
Cercle de Sagesse, France
Festival de Chamanism, France
Liv Vitan, Switzerland 
Min-I.L.I.T.
Plöchl Druck, Austria
Praxis im Rütiholz, Switzerland
Thomas Rosner, Switzerland
Praxis an Schlossturm, Germany 
Kararis, Germany 
De Vleugelhoorn, Belguim 
North- and South-America:
Gypsy Hands, USA
Mu-North Healing Haka Comunity, Canada