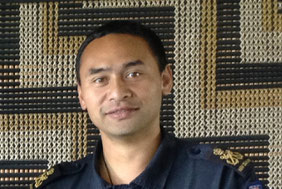 Shane
He kakano ahau I ruia mai i Rangiatea


Ko Paeroa tōku maunga

Ko Puaharangi tōku waka

Ko Ngāti Tahu, Ngāti Whaoa ōku Iwi

Ko Tahumatua te tangata

Ka ora te Iwi,
Ka ora te Tangata

Koiā āku rohe, hei hā hei!!!

Ko SHANE WESTBROOK ahau


I was born and raised in Te Toke an isolated rural community in Reporoa.  I joined the navy at 19 years to travel.  I met my Niuean wife Anna who was also in the Navy, we now have 3 beautiful children; 2 boys and 1 girl.  In 2013, I attended one of Ojasvin and Waimaania courses about TITO Oriori (Composition of a lullaby) to assist in the birth of our son Hudson. I believe their courses cater for taha wairua (spiritual side), taha kikokiko (physical side) where you can activate your inner potential. Since then, I accepted a position as a trustee of GMHH successfully completing several Te Reo Māori courses and still learning the art of the Taiaha (Māori weaponry).
Nō reira tēnā koutou, tēnā koutou, tēnā tātou katoa kua ea.