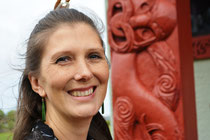 Waimaania Iris Häusermann Davis was  born and raised in Switzerland. Her parents presented her an artistic upbringing connected to nature through the Waldorf School of Zug. Continuing on she became a public teacher before she studied theater and dance in Zürich.
Since 2004 she is co-working with Ojasvin around the world and has co-created with him the integral learning programme of Grandmothers Healing Haka as well as the PAIO healing with massage and shamanic healing. And in May 2010 they founded the Grandmothers Healing Haka Charitable Trust in New Zealand.
Iris was given her Maori name Waimaania after her Maori studdies of the Karanga. 
With her spiritual father Shin she studies the Yoga of Integral Learning since 2003 and is a certified teacher from the school Min-I.L.I.T.
Iris was chosen in April 2013 to be a member of "Le Cercle de Sagesse de l'Union des Traditions Ancestrales" in France.
Manager GMHH Trust NZ and President GMHH Association France.