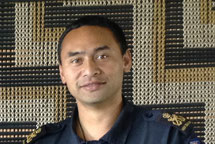 SHANE WESTBROOK is Maori, born and raised in a small place called Te Toke, Aotearoa. He stems from the tribes Ngāti Tahu, Ngāti Whaoa. Together with his wife Anna and their 3 children Tane, Ema and Hudson he resides now in Te Atatu South (West Auckland). Shane joined the Royal New Zealand Navy (RNZN) in 1997 and is working there to date. He is an active member of two kapahaka groups (Maori cultural performing arts).
In 2011, he attended the Kura Wero (school of challenge) under the guidance of Matua Hēmi Te Pēti of Te Ngū ō Te Wheke and was given the blessings to conduct the learnt elements for the RNZN. In July 2017 Shane was invited by Grandmothers Healing Haka on his first trip to Europe to teach Mau Rākau to the Haka Rongo Aio Formation and to hold a weekend seminar in France.
Shane first met Ojasvin and Waimaania in a Tito Wananga in Auckland to write his Oriori song for his last born son in 2013 and is a Trustee & Cultural Advisor on the Board of GMHH NZ since 2014.