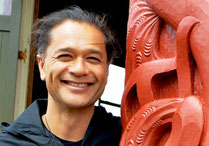 Ojasvin Kingi Davis is Maori from the people of Ngaitupoto, Ngatihine, Ngapuhi of Aotearoa, New Zealand. His bloodline and family traditions reaches back to the stream of Waitaha and Waiomu. In his upbringing and studies he was uniquely immersed in his living culture.
Since 1998 he studies the Yoga of Integral Learning with his teacher Shin. Ojasvin became a fully certified teacher for Yoga of Integral Learning of the school Min-I.L.I.T. in 2008 and has been carrying the teachings worldwide, integrated into the Grandmothers Healing Haka Programme, that he co-created with his wife Waimaania. Out of this work also formed the PAIO Healing Sessions, based on massage and shamanic techniques.
In 2010 he founded together with his wife the Grandmothers Healing Haka Charitable Trust. He has developed and created the Mana Tane Programme to empower Maori men to help them activate their potential.
Ojasvin was chosen to be a member of "Le Cercle de Sagesse de l'Union des Traditions Ancestrales" in France. He is the chairman of GMHH Trust NZ and treasurer of the GMHH France Association.
Healing Haka with Lhyros Ensemble Musicale de Monde