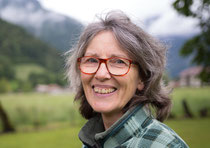 Jennifer Meynard was born in Scotland and moved to Paris in 1976 to work as a bilingual executive secretary. In the city of love she married a French man who shared her interest in yoga and Hinduism, and together they brought two sons into the world.
After exploring Tibetan Buddhism, an interest in shamanism led to her meeting Ojasvin and Waimaania at the annual French shaman festival in 2013. Recognised for her many skills Jennifer was invited to join the GMHH Trust Board in 2014.
Jennifer remains captivated by the love Ojasvin and Waimaania share so generously, and the interwoven manifestation of divine masculine and divine feminine energies.