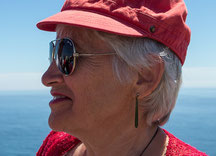 Fay Lilian grew up in Southland; her ancestors emigrated mid-1800s as part of Britain's settlement and colonisation of Aotearoa.  Her 20 year bi-cultural marriage gifted her two daughters who whakapapa Māori; and deepened her appreciation of Te Ao Māori. 
Since her teens, Fay has studied many spiritual practises. In 2008 she attend a Grandmothers Healing Haka Seminar in Auckland, and experienced the generous, unique cultural and spiritual interweaving of Ojasvin and Waimaania's work; thereafter she followed their work with interest. 
Fay's trainings in social work, psychodrama, psychotherapy and clinical supervision inform her private practice as therapists. She volunteers administrative skills to Waka Oranga (Maori Psychotherapy Practitioners).
She chose Rangi Davis, Ojasvin's mother as her cultural supervisor; this connection led her to assisting in the kitchen for the GMHH tour 2016 and as driver for the Tour 2017 - wonderfully rich experiences.  
 In March 2017 Fay was welcomed onto the GMHH Trust Board.